Cognitive Behavioral Therapy (CBT) Workshops by Christine Padesky
> Important Note:  Most of the event dates and times are listed for the Pacific Time Zone. Please adjust accordingly for your time zone. 
> If you cannot attend a workshop, try our CBT Training on MP4 video and MP3 audio. CLICK HERE to visit Digital Padesky Store (available 24/7)
– – – – – – –

CBT Boot Camp 2.0: Building Core Therapist & Client Skills Using MOM2 (Sweden 2016)
June 2, 2016
–
June 3, 2016
CEST

2016 Skansen, Stockholm, SWEDEN –  two day / 12 hour workshop
For complete workshop information & registration, visit the sponsor's site: sapu.se/building-core-therapist-and-clients-skills-using-mom-2-0-med-christine-padesky/ (once event ends, link is no longer valid)
Join PADESKY at the world's oldest open-air museum, situated on the island of Djurgården within the city limits of Stockholm.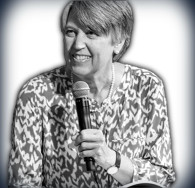 WORKSHOP DESCRIPTION
CBT Boot Camp 2.0 features innovative participant exercises that approach familiar topics in novel ways. Although there is thematic overlap with the first CBT Boot Camp workshop, the majority of the clinical demonstrations, exercises, and content of this workshop are different. Workshop learning is enhanced through many live clinical demonstrations, structured participant exercises, and handouts. As always, this workshop is infused with Dr. Padesky's signature warmth, humour, and an emphasis on practical clinical tips.
Participants in this workshop will be among the first therapists in Europe to learn directly from Dr. Padesky about how to link the new version of Mind Over Mood with evidence based treatment protocols.
In addition, participants learn how to use MOM2 (Mind Over Mood, 2nd Ed., Greenberger & Padesky, October 2015) in therapy to work more effectively with depression, anxiety disorders, anger, guilt, and shame. Previous familiarity with this workbook is not required. Participants learn how MOM2 can boost therapist skillful practice at the same time it boosts client skill development.
Differences from the first edition of this best-selling workbook include:
expanded sections on anxiety management including fear ladders, safety behaviours, imagery, mindfulness and acceptance methods
integration of evidence based methods drawn from positive psychology such as gratitude diaries and happiness ratings
new chapters on goal setting, relapse management
an expanded chapter on using behavioural experiments to test assumptions
ATTEND CBT BOOT CAMP 2.0 AND ACHIEVE GREATER CBT FITNESS
By the end of Boot Camp, participants will achieve greater CBT fitness in the areas of:
therapy structure and alliance
improving client ability to observe and self-monitor
assigning and debriefing relevant homework relevant to specific client moods
use of guided discovery methods (such as Socratic dialogue, thought records, and behavioural experiments)
In addition, participants learn how to use the recently released MOM2 (Mind Over Mood, 2nd Ed., Greenberger & Padesky) in therapy to work more effectively with depression, anxiety disorders, anger, guilt, and shame.
Achieve greater CBT fitness in a wide variety of areas including structure, alliance, behavioural experiments.
WHAT IS MOM2? DO I NEED A COPY FOR THIS WORKSHOP?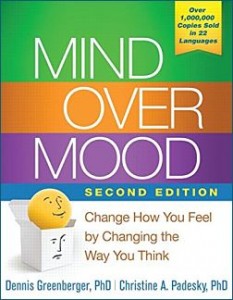 The first edition of Mind Over Mood was published 20 years ago, and since then has sold more than 1 million copies in 23 languages. In October 2015, a fully revised and updated 2nd Edition was released. This book (referred to as MOM2) will be referenced extensively during the workshop.
If you register for this workshop, you will receive a copy of MOM2 on-site the first day of the workshop.
LEARNING OBJECTIVES
PRACTICE a 5-part model for collaborative case conceptualization
IDENTIFY SKILLS empirically linked to improvement in depression and anxiety
LINK MOM2 chapter reading order with treatment protocols
IDENTIFY and TEST mood-related images
ASSIST clients in following a 3-step plan for relapse management
CONSIDER when forgiveness is therapeutic and when it is not
FOLLOW research guidelines for gratitude diaries, mindfulness practice, and other evidence-based intervention methods
Learn how to use MOM2 in therapy to work more effectively with depression, anxiety disorders, anger, guilt, and shame.
WHO SHOULD ATTEND
Especially designed for novice and intermediate level CBT therapists who want to build and strengthen their own core clinical skills as well as understand more clearly how therapist skills parallel skills that we want to teach clients.
Join Padesky in Sweden and be one of the first to learn directly from Dr. Padesky about how to link the new version of her self-help workbook with evidence based treatment protocols.
WORKSHOP SPONSOR
SAPU (Skandinaviens Akademi för Psykoterapiutveckling AB)
Scandinavia's Academy for Psychotherapy Development Inc.
(+46) 0046 8 642 10 24 or 0046 7
info@sapu.se
Sponsor Website: https://www.sapu.se/
PRESENTER
Christine A. Padesky, PhD
BIO
Christine A. Padesky, Ph.D., is considered one of the leading CBT presenters in the world, appreciated for her depth of knowledge, compassion, and good-humored warmth. She has presented over 450 workshops to more than 50,000 professionals throughout North and South America, Europe, and Asia as well as 25 workshops with cognitive therapy's founder, Aaron T. Beck, M.D. Her clear, organized and compelling presentations integrate theory, empiricism, creativity, practical skills, and audience interaction.
Co-founder in 1983 of the Center for Cognitive Therapy in Huntington Beach, California, Dr. Padesky is a Distinguished Founding Fellow of the Academy of Cognitive Therapy and former President of the International Association for Cognitive Psychotherapy. In 2002, the British Association of Behavioural and Cognitive Psychotherapies (BABCP) named Dr. Padesky the "Most Influential International Cognitive- Behavioural Therapist." In 2003 she received recognition for her Distinguished Contribution to Psychology from the California Psychological Association. In 2007 the Academy of Cognitive Therapy honoured her with its Aaron T. Beck Award for enduring contributions to the field.
Dr. Padesky provides consultation to mental health professionals, clinics, hospitals and groups worldwide. She develops audio video training materials (described at www.Store.Padesky.com) that demonstrate cognitive therapy processes and protocols and is a featured therapist in several award-winning educational films. She is co-author of books translated into 23 languages including Collaborative Case Conceptualization, Cognitive Therapy of Personality Disorders, Clinician's Guide to Mind Over Mood, and Cognitive Therapy with Couples. BABCP voted her best-selling cognitive therapy self-help book Mind Over Mood: Change How You Feel by Changing the Way You Think (www.mindovermood.com) the most influential cognitive therapy book of all time.
WHEN
June 2 – 3, 2016 (two day / 12 hour workshop)
10 am to 5:30 pm (June 2)
9 am to 4:30 pm (June 3)
WHERE
Skansen
Högloftet
Skansen på Djurgården
Stockholm
SWEDEN
COST
3700 SEK (exkl moms)
The price includes course materials, the new 2nd edition of Mind over Mood, refreshments and lunch
CONTACT
(+46) 0046 8 642 10 24
(+46) 0046 70 690 24 08
Email
info@sapu.se
Event website
https://www.sapu.se/

http://sapu.se/building-core-therapist-and-clients-skills-using-mom-2-0-med-christine-padesky/ (once event ends, link is no longer valid)