Dialogues for Discovery
Improving Psychotherapy's Effectiveness
40% discount EXPIRES 7 December 2023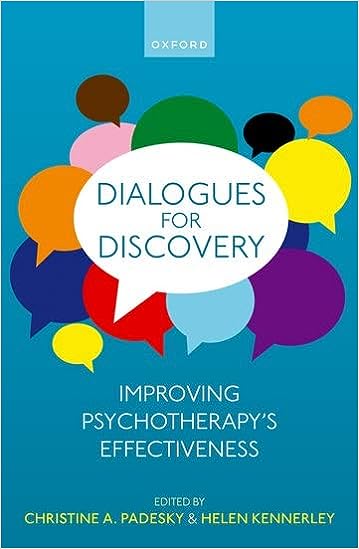 Psychotherapists of all modalities can learn how to help their clients make more frequent and higher quality discoveries in every therapy session.
VIEW the TABLE OF CONTENTS
VIEW the LIST OF 50 COMMON TRAPS
ORDER DIRECT FROM PUBLISHER TODAY and SAVE 30%
Use promotion code: ASPROMP8
no expiration date
Dialogues for Discovery offers a vision of how Socratic Dialogue can infuse all types of psychotherapy and lead to discoveries that transform client lives for the better. 
 FEATURES
Detailed therapist-client dialogues illustrate Padesky's client-centered and collaborative 4-Stage Model of Socratic Dialogue, behavioral experiments, imagery exercises, and role plays.
Guidelines for expert use of Socratic dialogue are highlighted to help therapists avoid and navigate common therapy traps that frequently derail therapy progress.
Traps include: clients who say, "yes, but…", expressions of pessimism and hopelessness, avoidance, intolerance of uncertainty, challenges working with mental imagery, repetitive discussions related to inflexible beliefs, alliance ruptures, risks exacerbated by impulsive and compulsive behaviors. 
Chapters, written by international experts on each topic, include guiding principles in "Keep in Mind" boxes. 
Also included: Reader Learning Activities and Reflective Practice Worksheets to personalize and help consolidate therapist application and development of Dialogues for Discovery skills.