DIGITAL PADESKY AUDIO PUBLICATIONS
CBT Workshops & Presentations on MP3 audioBuy at discount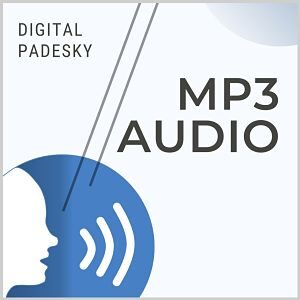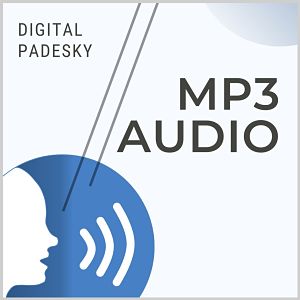 Cognitive Behavior Therapy Training Workshops and Presentations
Clinical workshops and presentations. Available for purchase only in MP3 audio
Featuring Christine A. Padesky, PhD
Categories include: Anxiety, Children, Couples, Depression, Fundamentals, Groups, Personality Disorders, Therapist Issues, Trauma (PTSD)
Click on Read More / BUY button for description
Come back often. More titles are scheduled for 2023 publication.
All audio programs are deeply discounted.
NOT FOR USE BY THE PUBLIC.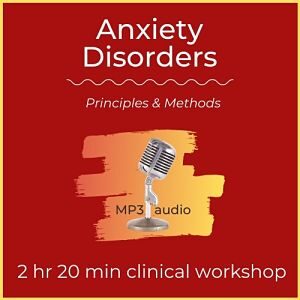 Cognitive Behavior Therapy of Anxiety Disorders: Principles & Methods
Run time: 2 hrs 20 min
On MP3 audio (SKU: dANX1)
Cognitive theory of anxiety. Five areas of treatment intervention. Role of medication
5 Stars – VALUABLE INFORMATION by Dr. Glenn Gero, DSc: I've already listened to several of Dr. Padesky's programs and they are all great quality and value. It has made my driving time an opportunity for acquiring new techniques that I have been able to implement into my practice.

4 Stars – ANXIETY DISORDERS by Wendy Allonby: I am a trainees CBT Therapist. Whereas I had thought this CD [MP3 audio] was just for GAD, it gives an over view of all anxiety disorders which is helpful primer. I found it particularly helpful listening to this in my car, especially the section on breathing techniques and how important it is to ask the client to demonstrate what they are doing (particularly if they say they've tried and it doesn't work), to instruct accordingly and to practice. I love the way Christine presents material and makes it so accessible and the important message she conveys about valuing clients strengths, guided discovery and collaborative empiricism.
An important point she drives home, is that anxiety needs to be tested 'in vivo' i.e. rate anxiety when the person is in the driving seat anticipating a catastrophe as well as in the safety of the office environment. I'm looking forward to hearing the rest of the series.

3 Stars – GAD by Marian Rigsbee: Helpful but I was really hoping for a much more in-depth lecture on treatment of GAD.
OUR RESPONSE: The program you are referring to (dANX1) is not intended to cover GAD. The only program we have covering GAD is our MP3 audio program titled: Brief Cognitive Therapy for Phobias & Generalized Anxiety Disorder (dANX2).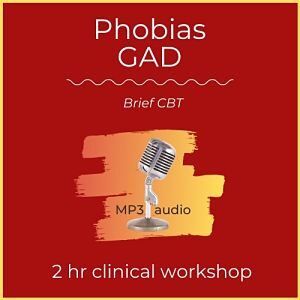 Brief Cognitive Behavior Therapy for Phobias & Generalized Anxiety Disorder
Run time: 2 hrs
On MP3 audio (SKU: dANX2)
Five stages of phobia treatment. Use of imagery and PR Plan for overcoming avoidance.
5 Stars – PHOBIAS & GENERALIZED ANXIETY DISORDER by Rosa Dragonetti: Great resource for those new to the field as well as those with experience looking for ways to improve/expand skills.

Cognitive Behavior Therapy
for Social Anxiety:
Assertive Defense of the Self
Run time: 2 hrs 11 min
On MP3 audio (SKU: sanx)
3 common CBT interventions used to treat Social Anxiety. Demo of "Assertive Defense of Self." Strategies for any level of social anxiety. Follow-up info the Behavioral Experiments.
5 Stars – VERY VALUABLE by S. Hopley: This was an excellent
. Very practical, with clearly defined behaviour experiments that illustrate the use of Assertive Defence of the Self. Within a day of reviewing the CD [program] I was applying what I'd learned with my clients. My clients were receptive to the approach, and have provided very positive feedback about the skills they have learned. I used the approach with a client who is too nervous to go to a job interview. I am also using the approach with people struggling with addictions, since isolation has been a huge problem for them, and re-integrating into society is quite challenging. I'm so glad I made the purchase. I am am currently completing my practium in counselling psychology, the last step towards receiving my master's degree.
5 Stars – A CLEAR GUIDE TO REDUCING SOCIAL ANXIETY by Ruth Morelli: I was very curious to learn more about Padesky's concept of "Assertive Defense of the Self." I was pleased to hear it's something I already do, but call "taking the voice of the other." I especially liked her descriptions of behavioral experiments, though buying a camcorder, and setting up an office to watch is is just beyond my price range and skill. I think some of her suggestions are better suited for a large practice, rather than a solo practitioner. I especially liked the role play she and a confederate did since I could hear her escalating when she used the critical voice, something not easily conveyed in a book. She emphasized the importance of setting up a complete hierarchy which was helpful with one of my patients tonight. I realized the reason the patient couldn't do the homework was probably because we started at too high a Suds rating. I've now listened to the set 1 1/2 times, and plan to listen more often. It's well worth the wait time, and the money. Buy it!
5 Stars – CBT FOR SOCIAL ANXIETY by Stephanie Rudeau: It describes Padesky's approach to social anxiety in a way that's clear and interesting, with lots of clinical examples. This was a great find!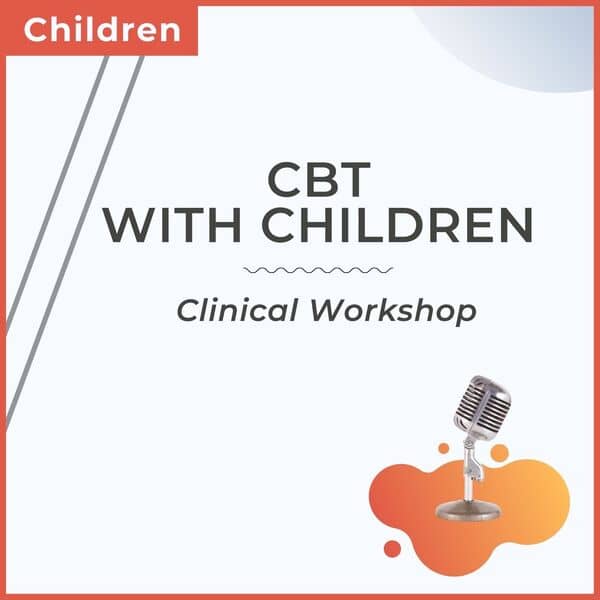 Cognitive Behavior Therapy with Children
On MP3 audio
Run time: 1 hr 19 min
(SKU: child)
Use play and drama to adapt CBT methods. "Whispering puppets, code books, what's out there game." Case examples.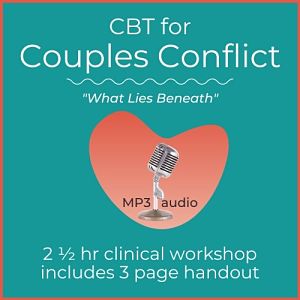 Cognitive Behavior Therapy for Couples Conflict: What Lies Beneath
On MP3 audio
Run time: 2 hrs 30 min
(SKU: dCOUP) 
Beliefs and emotions fuel anger in intimate relationships. A nine stage treatment model is illustrated with case examples.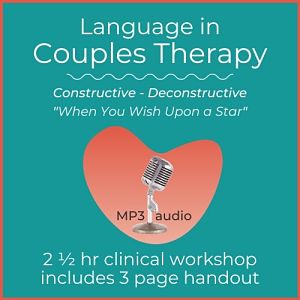 Constructive & Deconstructive Language in Couples Therapy
"When You Wish Upon a Star"
On MP3 audio
Run time: 2 hrs 30 min
(SKU: dLANG)
Live role-play demonstration shows the added advantages of using constructive language, especially with a couple who sees change as hopeless.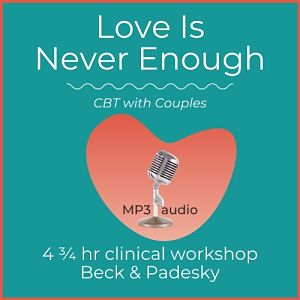 LOVE IS NEVER ENOUGH
Cognitive Behavior Therapy with Couples
On MP3 audio
Run time: 4 hrs 45 min
(SKU: dLNE)
Aaron Beck and Padesky. Eight stages of cognitive therapy with couples. Live demonstrations of Dr. Beck doing couples therapy.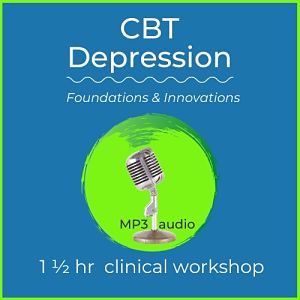 Cognitive Behavior Therapy of Depression: Foundations & Innovations
On MP3 audio
Run time: 1 hrs 30 min
(SKU: dDEP1)
Concise summary of the cognitive behavior therapy treatment protocol for working with depression. Includes 7 Column Thought Record exercise for the listener.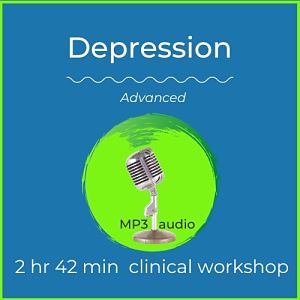 Advanced Cognitive Behavior Therapy of Depression
On MP3 audio
Run time: 2 hrs 42 min
(SKU: dLB1)
Case examples, role plays, treatment strategies, specific strategies to handle common therapy roadblocks.
5 Stars – GREAT STUFF by Thomas Mattax PhD: Very pleased with the CBT products I have purchased. The quality is wonderful and in conjunction with the books are a great resource. I have already been able to put much of what I have learned into practice.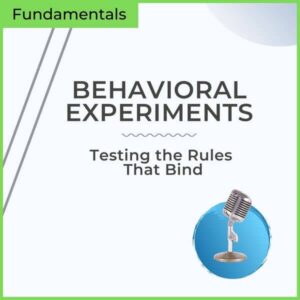 Behavioral Experiments:
Testing the Rules That Bind
On MP3 audio
Run time: 1 hr 48 min
(SKU: behx)
Testing underlying assumptions and core beliefs, clinical illustrations, principles to set up experiments to maximize learning, principles for debriefing experiments, strategies for increasing compliance. Case examples of how to shift the underlying assumptions.
5 Stars – THE REAL CORE by Dr. Paul: Behavioral Experiments [on mp3 audio] is a wonderful example of how Padesky puts cutting-edge CBT into clear and specific terms that will enable you to implement tools with your clients (and yourself) right away. If your client is not engaging in experiments – chances are its too much talk (in my opinion) – It's the type of that you can go back and listen to and get even more nuggets. good for all levels.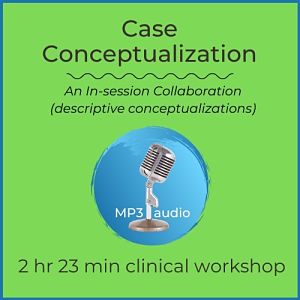 CaseConceptualization
(initial session)
Case Conceptualization:
An In-session Collaboration
On MP3 audio
Run time: 2 hrs 23 min
(SKU: dCC) 
Most useful when constructed collaboratively in-session. In several role-play case demonstrations, Padesky skillfully guides clients to conceptualize their problems in ways that highlight change possibilities.
5 Stars by Carole Forde Counselling: I'm currently studying (2nd Year) of my CBT diploma course at the Glasgow Cognitive Therapy Centre. I have found the video and audio programs amazing tools to help me study. I work full time as well as studying and drive a lot. I listen to tapes in my car as well as watch the videos. They have been fantastic in clarifying and broadening my understanding of CBT. Padesky has a great way to make you understand the theory as well as practice. It was definitely a worth while buy and investment into my studies and future career. It's nice to find good material from advocates of CBT that are easy to listen too, understand and help you put the theory into practice that enhances your learning experience.
OUR RESPONSE: Thank you for your positive comments. We wanted to point out to our readers that you referred to the following programs in your review which are now available as MP4 videos and MP3 audios from our Digital Padesky Store.
Collaborative Case Conceptualization (video sku: dVCON)
Case Conceptualization: An In-session Collaboration (audio sku: dCC)
CBT for Social Anxiety (audio sku: dSANX)
Posttraumatic Stress Disorder (audio sku: dPTSD)
Behavioral Experiments: Testing the Rules That Bind (audio sku: dBEHX)
5 Stars – WORTH EVERY PENNY  by Alison Blencowe: I'm a trainee Clinical Psychologist using CBT with adults for the first time. I found the workshop really clear and the examples incredibly useful. I am one of those early career people described in the workshop overwhelmed by the number of disorder specific models out there, especially since none of my clients seem to fit 'perfectly'. This workshop freed me from the need to squeeze clients into a specific model inappropriately and decide on which models I want to work with. More than anything, I've been struggling to be collaborative when developing conceptualisations with clients but I've not known what to do differently to improve this. Clear guidelines are given and then acted out in the worked examples, giving me great ideas on how to make changes to my practice. Similarly, the live role plays also illustrate how to adapt when things don't go to plan and a detailed conceptualisation can't yet be achieved. Christine expertly works through this in a way that still helps the client and the therapist start understanding what's going on for the client without either party becoming stumped or frustrated – which is something else I've been struggling with. I'm so pleased I invested in these discs so early on in my career. The only improvement I would suggest is trying to include pictures of the final example conceptualisations completed during the workshop. I've made drawings based on what I've heard but I felt it would be useful to be able to compare these to what was actually developed in the workshop.

5 Stars – EXCELLENT RESOURCE by Sacha Langley BA /DipSw: I am a trainee CBT therapist and have found listening to the CD [MP3 audio] really useful, it has been very helpful to understand case conceptualisation and how this works as the foundation to any future work with clients. Collaboration and idiosyncratic conceptualisation are also a cornerstone to effective working with clients.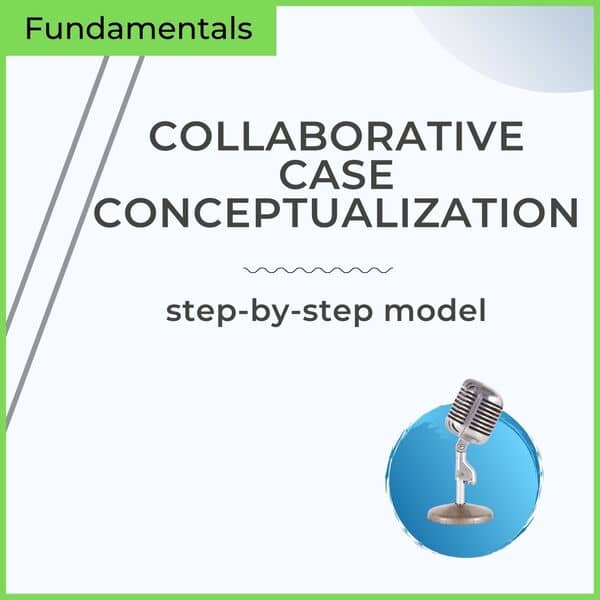 CaseConceptualization
(across sessions)
A Step-by-Step Model of Collaborative Case Conceptualization
On MP3 audio
Run time: 3 hrs 30 min
(sku: mccc)
Step-by-step model of collaborative case conceptualization to guide therapists' treatment planning, derived from Collaborative Case Conceptualization book. Demonstrates three guiding principles.
5 Stars – VERY GOOD RESOURCE by MB: I am a BABCP accredited Cognitive Therapist in the UK, I would class myself as intermediate in terms of experience. I really enjoyed this seminar- I particularly liked the clever adaptation of the ABC framework into an easy-to-use, basic formulation model that can be used to highlight maintenance traps. I am also very fond of strengths-based approaches having been trained in Narrative Therapy, so I very much appreciated Padesky's idea of making 'ability spotting' part of the formulation!

5 Stars – STEP-BY-STEP MODELby Anna Wejdemann: I'm a trained and specialized psychologist and psychotherapist. I have found the step-by-step model of CCC very useful. It provided me with information about research, at a very useful level. The "presenting problem in a box – arrow in – arrow out" is a very useful model, which is presented in a way, that makes it immediately understandable. And I'm very thrilled about Padeskey's focus on resilience and strengths in the clients, which is also presented in a very nice way in the program.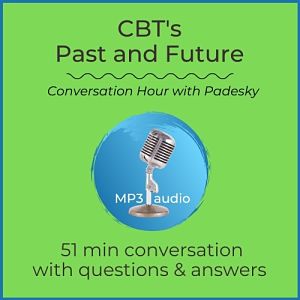 CBT's Past & Future: A Conversation Hour with Questions & Answers
On MP3 audio
Run time: 51 min
(SKU: dCHCT)
First 14 minutes offer Dr. Padesky's personal perspective on the evolution of cognitive behavior therapy as well as her vision for its future. Useful introduction to Padesky's philosophy of Cognitive Behavior Therapy. Followed by a wide-ranging question & answer session with therapists.
5 Stars – LIKE LISTENING TO NPR by Dr. Kathleen Mooney: NPR = National Public Radio The Questions & Answers on this program are fascinating. I especially like the "Hallucinations" section which involves making assumptions about our clients. I was mesmerized by the story told about a client's experience walking home!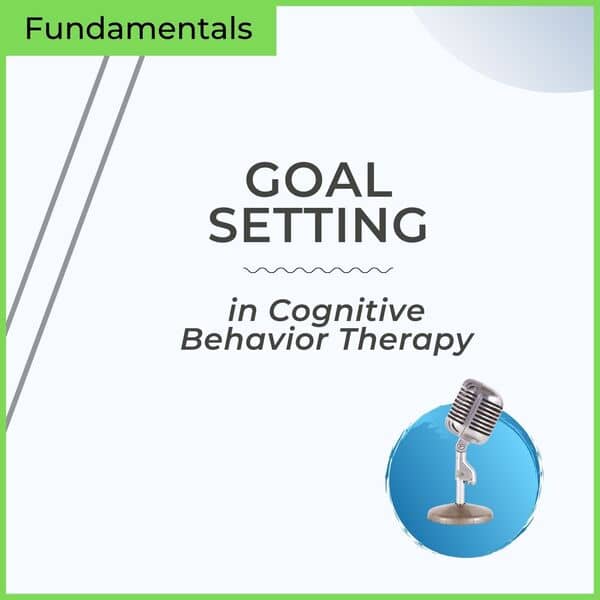 Goal Setting in
Cognitive Behavior Therapy
On MP3 audio
Run time: 2 hrs 16 min
(SKU: goal)
Overwhelming problem lists? Goals are too vague? Artfully combine therapeutic alliance and structure to facilitate goal setting. Client and therapist beliefs can enhance or interfere with productive goal-setting. Benefits of both deconstructive and constructive language are highlighted.
Guided Discovery: Leading & Following
On MP3 audio
Run time: 2 hrs 30 min
(SKU: guid)
The key is not clever questioning but rather an interactive dialogue that produces client discovery and understanding. Live clinical demonstrations of the interactive 4 stage process of Socratic Dialogue. Clarifies and reviews the 3 levels of thought.
5 Stars – EXCELLENT RESOURCE by Sacha Langley BA /DipSw: I am a CBT trainee and have found listening to the really useful. It has helped me to explore client issues in more depth. It has been very useful to understand Socratic questioning and how to let the client do the work.

5 Stars – VALUABLE INFORMATION by Karen Kerschmann: I listened to Ms. Padesky's presentation on my way to work; that very day I was able to use the tools! As an intermediate CT therapist, the information was clear, concise, and easy to understand. I highly recommend this recording to enhance your practice if you already have the basic CBT skills in place.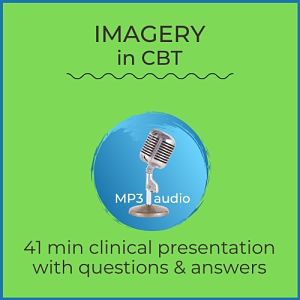 Imagery in Cognitive Behavior Therapy
On MP3 audio
Run time: 41 min
(SKU: dIMAG) 
Summarizes relevant recent research and discusses ways in which therapists can elicit and work with client imagery. Use of positive imagery and kinesthetic experiences.
5 Stars – AN ESSENTIAL TEACHING by Alice Abarbanel PhD: Listening to Christine Padesky (on the Imagery in CBT program) was like a visit from an old friend. I know about the use of imagery, but it is unfortunately all too easy to forget to inquire in the focused way Padesky demonstrates in this audio program. The CD [MP3] presents an overview about imagery, gives pointed reminders, and then in a question-answer format, suggests the use of imagery for a variety of situations. This CD MP3 is applicable for all levels of experience.

2 Stars: RATHER SHORT! by David Mair: I was disappointed with this cd mainly because it was a very short talk followed by q&a from the audience. I was really expecting something much more in-depth, with more clinical examples of using imagery in casework. For me, buying a good book about this topic has been a much better investment.
OUR RESPONSE: We are sorry you were disappointed with the Imagery discussion. Dr. Padesky used questions from experienced therapists to further expand points and to describe, discuss, and delineate the application of imagery in CBT.
Group Cognitive Therapy: A Balancing Act
On MP3 audio
Run time: 1 hr 20 min
(SKU: dGRP) 
Six principles of effective group cognitive therapy. Role plays demonstrate these principles. Analyze these six dimensions to assess difficulties and problem-solve.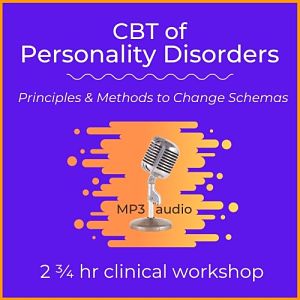 Cognitive Behavior Therapy of Personality Disorders: Principles & Methods to Change Schemas
On MP3 audio
Run time: 2 hrs 43 min
(SKU: dCTPD24)
C. Padesky with AT Beck. Use of psychodrama, continuum, historical test of schema, therapeutic relationship.
5 Stars – CHANGING SCHEMAS by Stephen Thompson: Thorough and detailed information for building skills in principles and practice for working with people with personality disorders. Identifying negative schemas and approaches to working with schemas where there is no positive alternative schema. I was impressed with the methods on ways of explaining schemas to clients. Transfer reactions with role plays and helpful debriefing of the important elements in practice, managing schemas activated in therapist, including comments from Aaron T Beck.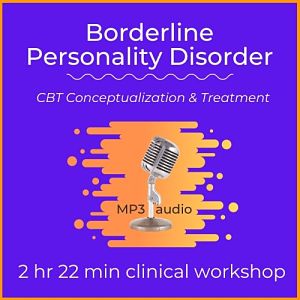 Cognitive Behavior Therapy Conceptualization & Treatment of Borderline Personality Disorder
On MP3 audio
Run time: 2 hrs 22 min
(SKU: dCTPD5)
Agenda setting & cycle of emotions. Crisis management of extreme distress. Demonstration by Dr. Aaron T. Beck conducting therapy with a mute client.
5 Stars – CONCEPTUALISATION AND TREATMENT OF BPD by Stephen Thompson: Helpful and detailed practice information for cognitive therapy with people with personality disorders. I found the information about conceptualisation useful and how standard approaches to CT, agenda setting, when working with BPD have to be reconsidered and adapted.

4 Stars – COGNITIVE THERAPY CD'S [MP3s] by David Sloan, LMHC: I have been practicing Cognitive Therapy with my patients for about a year with the help from the CD's [now MP3s] and Mind Over Mood. I wanted to attend a school to be trained in this therapy but unfortunately there is no class in a physical building that offers training in South Florida. I was very grateful I found your website and could purchase the trainings. I have found my patients are able to respond to different treatment models with remission in many of the issues they deal with when first entering treatment. I have also found the trainings help me to better understand countertransference so I can provide more balance in my own life. I work with dually diagnosed patients, many with substance dependence. I have also read many of Dr. Becks books and would very much like to see trainings on addiction.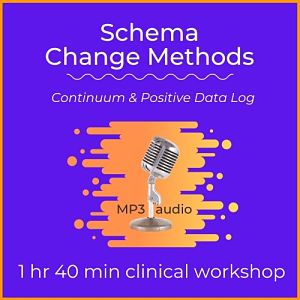 ContinuumPositive Data Log
The Continuum & Positive Data Log: Methods to Change Schemas
On MP3 audio
Run time: 1 hr 24 min
(SKU: dCTPD9) 
Provides a compassionate, non-pathological view of client problems. Use a continuum to help build new core beliefs. Use of core belief records. New core beliefs are central to successful therapy.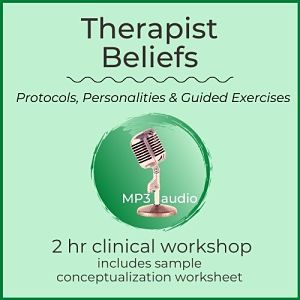 Therapist Beliefs:
Protocols, Personalities & Guided Exercises
On MP3 audio
Run time: 2 hrs
(SKU: dTB1) 
Guided exercises to help therapists assess how their own beliefs impact their clinical practice. Create new underlying assumptions to support change and set up behavioral experiments to test new and old beliefs.
Cognitive Behavior Therapy for Posttraumatic Stress Disorder
On MP3 audio
Run time: 2 hrs 14 min
(SKU: ptsd) 
Updated cognitive theory of PTSD derived from empirical findings. Importance of and how to identify "hotspots" in memories and imagery. clarity of this new model can help both novice and experienced therapists focus on the pivotal beliefs that maintain PTSD.
5 Stars – CBT FOR PTSD by Ulrike Klossek: These are excellent training materials. Not that this needs reiterating, but what I particularly love about Dr Padesky's work is its commitment to being client-centered – regardless of whether the client is an individual seeking therapy, a colleague or a therapist in training. What shines through her work and training materials time and time again is her profound understanding of her audience's needs that is both analytical and intuitive. She is certainly the best teacher of clinical practice and "how-to's" therapy skills I have come across.
These audios contain the recording of a workshop presentation on CBT for PTSD focusing on the Ehlers & Clarke model, which includes questions from the audience. The presentation provides a good introduction to the key features of model (focusing on applied/clinically relevant aspects), some very useful background information as well as a wealth of clinical tips and anecdotes.