Cognitive Behavioral Therapy (CBT) Workshops by Christine Padesky
> Important Note:  Most of the event dates and times are listed for the Pacific Time Zone. Please adjust accordingly for your time zone. 
> If you cannot attend a workshop, try our CBT Training on MP4 video and MP3 audio. CLICK HERE to visit Digital Padesky Store (available 24/7)
– – – – – – –

CBT for Depression & Social Anxiety: Evidence-Based Methods and Clinical Innovations (DENMARK 2014)
May 5, 2014
–
May 6, 2014
PDT

COPENHAGEN, DENMARK
DESCRIPTION: Anxiety and depression are common human experiences. When these become severe and disabling, therapists want to be sure to use the most effective treatments to help clients quickly and also reduce relapse. This 2-day workshop by Christine A. Padesky, Ph.D., world-renowned cognitive behavioral therapy instructor, demonstrates interventions effective in the treatment of depression and anxiety, with a special focus on one of the most common forms of anxiety, social anxiety. Attend this workshop to observe and practice methods known to effectively treat depression and anxiety. Enjoy Dr. Padesky's embedded creativity, humor, and optimism while you learn how to more effectively help your clients.
SPONSOR: The School for Cognitive & Behavioural Therapies, Mental Health Services
ORGANIZER & CONTACT INFO: Irene Oestrich <Irene.Oestrich@regionh.dk>
TOP 8 REASONS TO COME TO THIS WORKSHOP
If you dread working with depressed clients, ]you will learn how depression treatment can be enjoyable, rather than depressing
If you work with depressed clients but don't use CBT, most depressed people relapse; Behavioral and Cognitive Therapies have the lowest relapse rates
If you already use CBT for depression but have trouble getting client participation, this workshop shows how to engage depressed clients in therapy
If you don't use CBT for social anxiety, because this approach is fun to learn and effective for clients
If you use classic CBT for social anxiety and some of your clients don't improve, ADS helps clients learn to cope with criticism and rejection, which can make all the difference. ADS = Assertive Defense of the Self"
If you appreciate clear, articulate explanations and demonstrations of therapy methods, Dr. Padesky is renowned for the quality and depth of her teaching
If you learn best through a combination of listening, watching, and practicing, this workshop includes live demonstrations, videos, and structured skills practice
If you have a sense of humor, a keen interest in learning, and dedication to your profession, everyone will benefit from your participation in this intensive & fun learning event
PROGRAM INFORMATION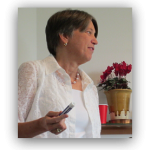 On Day 1, participants learn how to effectively use behavioral activation and thought records to help depressed clients become more active and test out negative beliefs. Dr. Padesky emphasizes treatment methods that have been empirically shown to reduce relapse. She models language, attitudes and metaphors that encourage client engagement and engender hope even when clients are pessimistic and hopeless. Common traps that interfere with treatment are highlighted with demonstrations of how to effectively and collaboratively manage them. Differences between depression and grief are highlighted.
On Day 2, Padesky shows how anxiety disorder treatment is similar and different from depression treatment and addresses comorbidity issues. Unlike depression treatment, each anxiety disorder has a specific treatment protocol which is different from the others. Despite these differences, common treatment principles exist which are reflected in each protocol. As an in-depth illustration of anxiety treatments, Padesky teaches a method she pioneered for social anxiety, "Assertive Defense of the Self."
Many cognitive behavioral therapies for social anxiety emphasize tests of client fears that other people will be critical and rejecting. Padesky has argued that an emphasis on the low likelihood of negative reactions from others misses the opportunity to expose clients to what they fear: criticism. Exposure to fears with coping practice is a central principle of effective treatment for all anxiety disorders. Her innovative approach uses scripted and unscripted role plays to guide socially anxious clients in the development of coping skills and confidence to manage criticism and rejection. This workshop teaches each stage of Assertive Defense of the Self (ADS), highlighting common therapist errors and beliefs that interfere with successful treatment outcome. Those who have attended Dr. Padesky's workshops in the past are familiar with her signature workshop approaches. After she demonstrates key therapy methods via live demonstrations or video, participants have an opportunity to bring their learning to life in carefully designed experiential exercises. These are framed by her clear didactic teaching, organized handouts, and rich clinical discussions.
Learning unfolds in simple steps which layer over the course of the workshop to yield a sophisticated and nuanced treatment approach by the end.
WORKSHOP OBJECTIVES
By the end of this workshop, participants will be able to
Use language and the therapy relationship to enhance client engagement in therapy

Help depressed clients increase the three types of activity empirically linked to positive 

therapy outcomes

Employ guided discovery to help clients effectively test out thoughts on a 7-column 

thought record

Debrief homework assignments to maximize client learning

Describe the anxiety equation

Use a targeted interview to identify feared criticisms and "assertive defense" responses 

for social anxiety

Practice Assertive Defense of the Self (ADS) from both client and therapist perspectives

Design relevant behavioral experiments for out of session practice

Integrate ADS with other empirically supported therapies for social anxiety