By Christine A. Padesky, PhD / June 27, 2014
When I was learning to do therapy as a graduate student, we spent the majority of our supervision sessions discussing details of client history and trying to conceptualize what was going on. Often it was hard to know how to link these discussions with the challenges I was facing in my therapy sessions.
In group supervision, I was sometimes confused and overwhelmed by the many different suggestions I received from other group members. Each person had their own favorite approaches to recommend.
These early frustrating supervision experiences led me to try to develop a better model when I started my own Center for Cognitive Therapy.
My ground rules for supervision include
Always ask a supervision question before saying anything about the case. Try to be specific and avoid general questions like, "What should I do with this client?"
Only give historical and session information that is relevant to the supervision question.
Limit information given about the client to 2 minutes (or up to 10% of time available to discuss the case, whichever is greater).
The supervisor or group can always ask for additional information; the idea is to leave as much time as possible to address the supervision question in a meaningful way.
When I began doing supervision in this way, therapists reported some surprising things
First, they told me it took time to figure out what supervision question they wanted to ask. This time was well spent, however. Often, once they figured out what help they needed they were able to review what they already knew about the client and CBT and answer their own question. They were then able to ask more nuanced questions that improved the quality of our supervision sessions. This process helps therapists develop self-reflection skills that prepare them for independent practice.
Limiting client information to 2 minutes helps therapists develop the ability to discern what client information is most important to the issue at hand. This is not easy to do, especially in the beginning. As George Bernard Shaw said, "Sorry for the letter, I didn't have time to write a postcard." Henry David Thoreau echoed this sentiment when he wrote, "Not that the story need be long, but it will take a long while to make it short." The benefits of thoughtful preparation for supervision sessions include deeper understanding of your clients, a more professional presentation of what you already know and need to learn, and more time dedicated to new learning in supervision sessions.
My Mental Flow Chart Became a Supervision Worksheet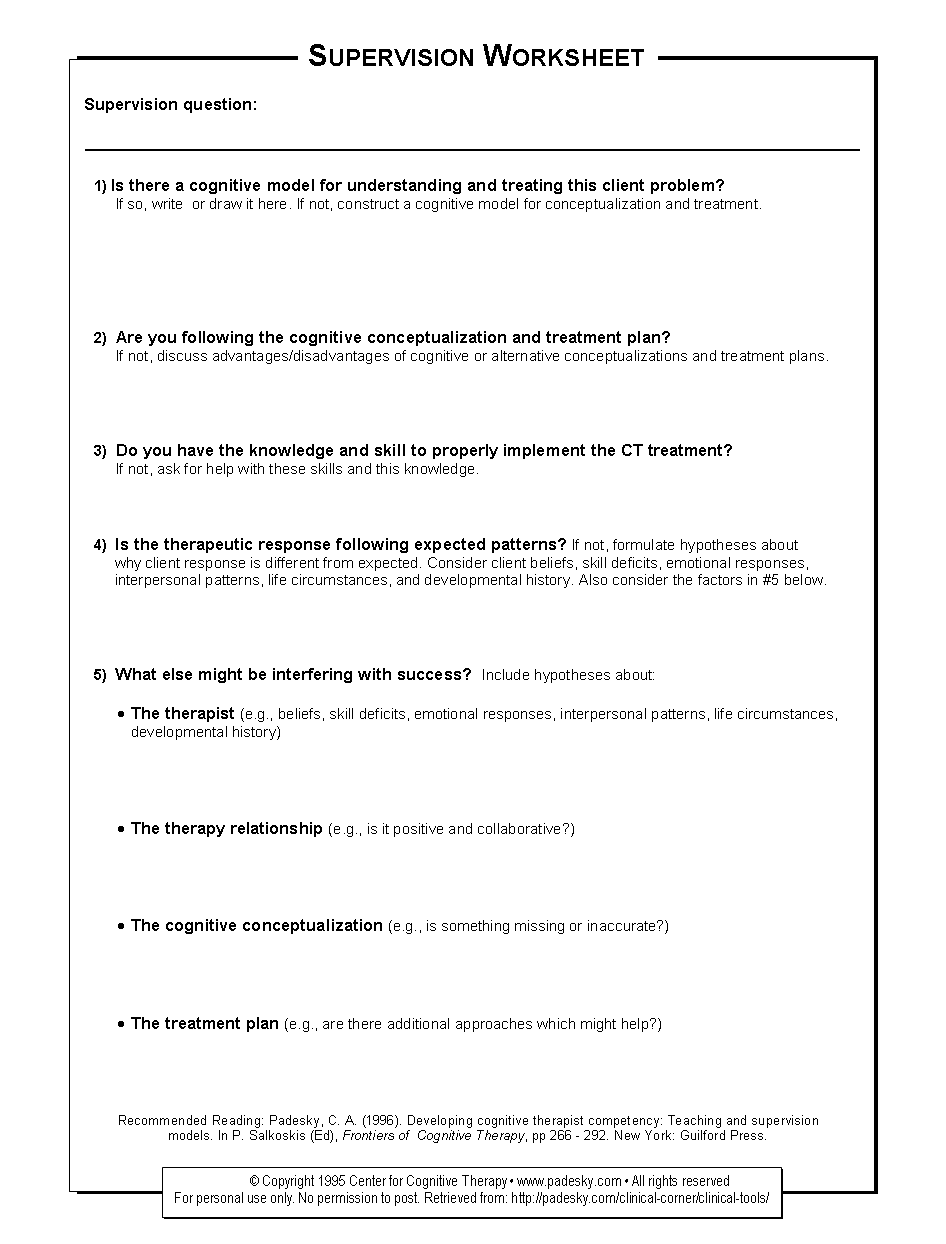 After using this model for a number of years, I realized that I used an internal mental flow chart to guide my decisions as a supervisor as to how to best help therapists. I developed a Supervision Worksheet so therapists could use this same flow chart to prepare for our supervision sessions.
Line 1 of this worksheet is the Supervision Question.
Next the therapist is asked to write or draw a cognitive model for understanding the client problem. If this section is blank, this is where supervision help needs to begin
If the therapist can describe a conceptualization, the next question asks whether they are following a treatment plan that fits with this model.
I instruct therapists to work through the worksheet as far as they can but, once they don't know the answer to a question, they are to stop there.

This is where supervision begins

.
I recently posted my Supervision Worksheet in the Clinical Tools section of Clinical Corner.
And if you are a licensed therapist and want to consult with me about your cases, this worksheet is terrific preparation to maximize your learning from our time together.
To set up a consultation appointment, visit our Consultation page.