Cognitive Behavioral Therapy (CBT) Workshops by Christine Padesky
> Important Note:  Most of the event dates and times are listed for the Pacific Time Zone. Please adjust accordingly for your time zone. 
> If you cannot attend a workshop, try our CBT Training on MP4 video and MP3 audio. CLICK HERE to visit Digital Padesky Store (available 24/7)
– – – – – – –

Book Signing Reception (USA 2014)
December 13, 2014
@
5:45 pm
–
6:45 pm
PST

GARDEN GROVE, CALIFORNIA
AUTHOR'S HOUR: BOOK SIGNING RECEPTION
Christine A. Padesky, PhD will be available at the Book Signing Reception to sign any of her publications:
Mind Over Mood (1st edition)
Clinician's Guide to Mind Over Mood
Collaborative Case Conceptualization
Cognitive Therapy of Personality Disorders
Cognitive Therapy with Couples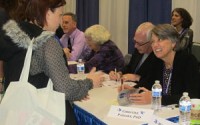 The Book Signing Reception is offered at The Brief Therapy Conference, the only comprehensive multidisciplinary conference in the world.
WORKSHOP SPONSOR: The Milton H. Erickson Foundation
WHEN: December 13, 2014 @ 5:45 pm – 6:45 pm
CONTACT: The Milton H. Erickson Foundation / 877-212-6678