Cognitive Behavioral Therapy (CBT) Workshops by Christine Padesky
> Important Note:  Most of the event dates and times are listed for the Pacific Time Zone. Please adjust accordingly for your time zone. 
> If you cannot attend a workshop, try our CBT Training on MP4 video and MP3 audio. CLICK HERE to visit Digital Padesky Store (available 24/7)
– – – – – – –

Action-Packed CBT: More Walk Less Talk (Toronto 2017)
October 30, 2017
–
October 31, 2017
PDT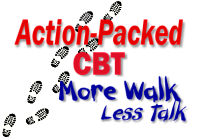 2017 TORONTO, CANADA – two day / 12 hour workshop
WORKSHOP DESCRIPTION
In this action-packed workshop, Christine A. Padesky PhD demonstrates a variety of action methods that can enhance CBT and other forms of psychotherapy. Like her other "Show Me" workshops, she structures her teaching around clinical demonstrations rather than lectures. For each segment of the workshop, she demonstrates particular methods so participating therapists can see exactly how Padesky conducts "action-packed" CBT. The Structured exercises that follow help therapists learn through experience how to implement action-oriented approaches. Thus, "More walk and less talk." Even so, there is ample time for questions, answers, and discussion to promote a more complete understanding of how to apply these approaches with diverse clients in a variety of settings.
For complete Workshop & On-line Registration Information visit https://ww.cognitiveworkshops.com/action-packed_cbt
A new "Show Me" workshop presented this fall by Christine Padesky
LEARNING OBJECTIVES
DESCRIBE two benefits of action-packed therapy
RECOGNIZE action opportunities within clinical interchanges
PLAN three actions appropriate to use with current clients
NAME two action methods that foster client engagement
DEMONSTRATE one action approach that is likely to enhance learning
IDENTIFY two action methods that help promote change
DEVISE in and out of office behavioral experiments
EXPERIENCE uses of writing for increasing client engagement
LINK imagery with in vivo change efforts
Our focus is on practical, clinical tools for therapists, using a hands-on format involving numerous role-plays and exercises, accompanied by extensive handouts.
WHO SHOULD ATTEND
This workshop is intended for mental health professionals, and students receiving clinical training in the mental health professions. It is not open to the general public.

WORKSHOP CO-SPONSORS
> Cognitive Workshops: www.CognitiveWorkshops.com

ARCHIVAL NOTE: After 24 years of sponsoring workshops, Cognitive Workshops retired their business in January 2019 and closed down their website CognitiveWorkshops.com. Cognitive Workshops sponsored 67 of Christine Padesky workshops from September 1995 through November 2018 in the United Kingdom, Canada, and the United States.
> Health & Counselling Services Paul Menton Centre, and FIT: Action at Carleton University
PRESENTER
Christine A. Padesky, PhD
WHEN
October 30 – 31, 2017 from 9:00 am – 4:45 pm
WHERE
Japanese Canadian Cultural Centre
6 Garamond Court
Toronto M3C 1Z5
CANADA
COST (All prices include HST/GST, refreshments, lunch and extensive handouts)
Early bird (until September 30): 415 CDN
Regular Rate (after September 30): 445 CDN
Student Rate: 325 CDN
CONTACT
Brian Toller, CognitiveWorkshops
613-236-9051 or 877-721-4034
Email
toller@cognitiveworkshops.com
Event website
https://www.cognitiveworkshops.com/